An unexpected and surprised article written by CHAT GPT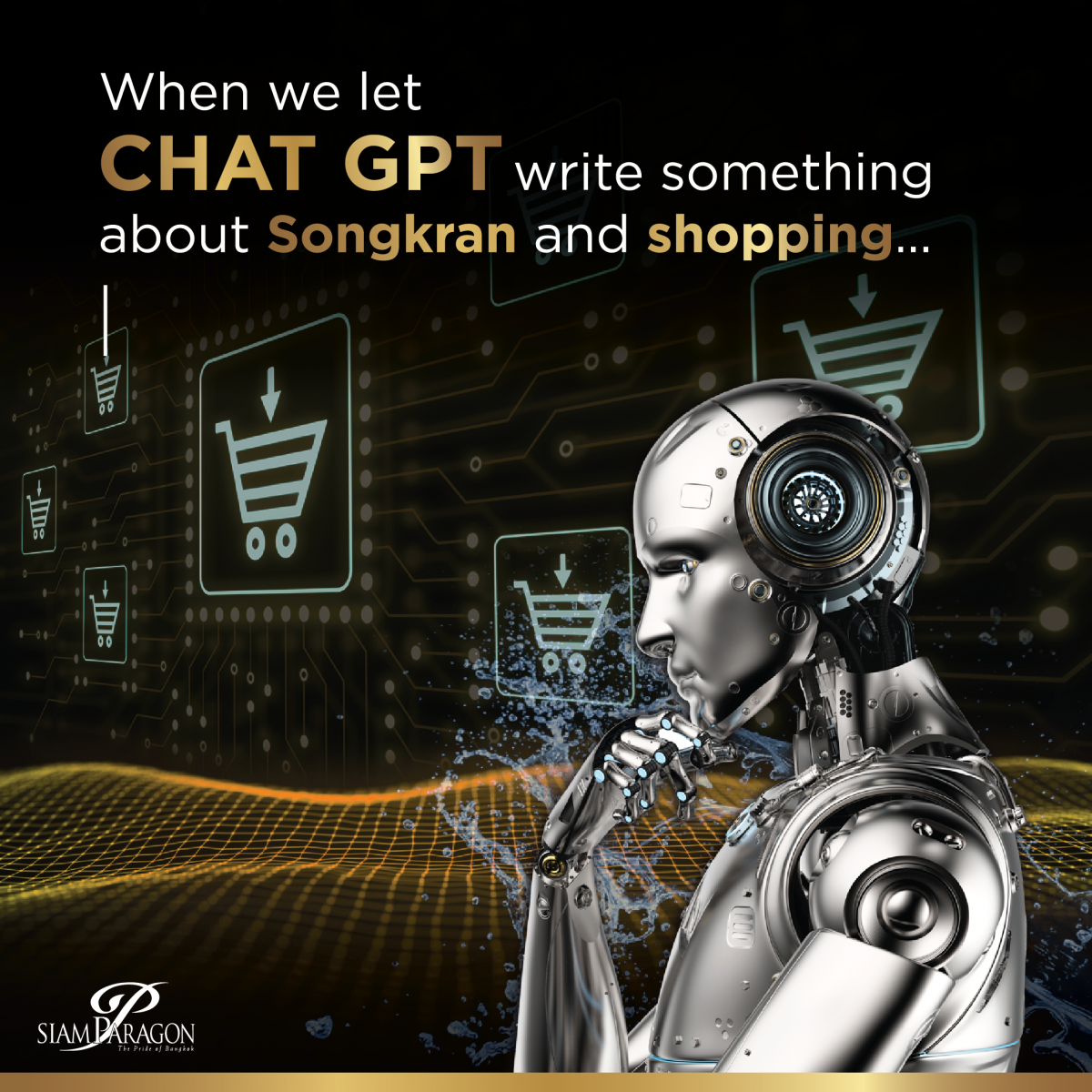 Thai people celebrate Songkran as the traditional New Year, which is why we wanted to try something "fun," "new," but "creative" and "amazing" at the same time.

So, we let CHAT GPT write the article about Songkran and a shopping trip in Bangkok without mentioning or inputting anything about our shopping malls' names (Siam Paragon, Siam Center, or Siam Discovery) !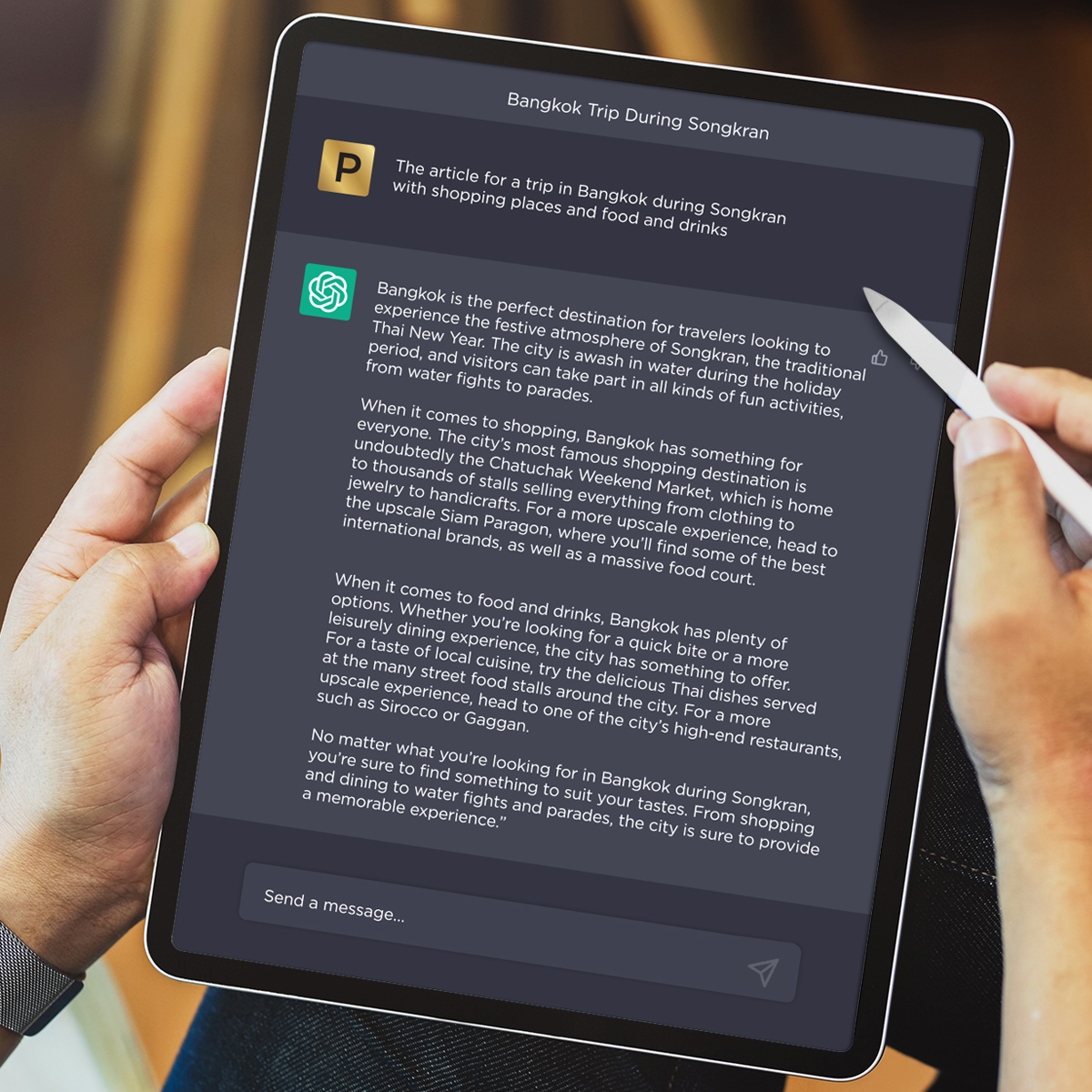 Here is the order we put in
"The article for a trip in Bangkok during Songkran with shopping places and food and drinks"
And this is what we get! Voilaaa!
"Bangkok is the perfect destination for travelers looking to experience the festive atmosphere of Songkran, the traditional Thai New Year. The city is awash in water during the holiday period, and visitors can take part in all kinds of fun activities, from water fights to parades.
When it comes to shopping, Bangkok has something for everyone. The city's most famous shopping destination is undoubtedly the Chatuchak Weekend Market, which is home to thousands of stalls selling everything from clothing to jewelry to handicrafts. For a more upscale experience, head to the upscale Siam Paragon, where you'll find some of the best international brands, as well as a massive food court.
When it comes to food and drinks, Bangkok has plenty of options. Whether you're looking for a quick bite or a more leisurely dining experience, the city has something to offer. For a taste of local cuisine, try the delicious Thai dishes served at the many street food stalls around the city. For a more upscale experience, head to one of the city's high-end restaurants, such as Sirocco or Gaggan.
No matter what you're looking for in Bangkok during Songkran, you're sure to find something to suit your tastes. From shopping and dining to water fights and parades, the city is sure to provide a memorable experience."
Reiterating our position as a World Class Shopping Destination with the mention of Siam Paragon in CHAT GPT's article without any prior input from us, and to ensure that you don't miss out on the various activities, discounts and giveaways during Songkran, we would like to present the following.
Now we would like to add some interesting information about our Songkran activites and summer's HOT deals for every international tourists !
1. Free Giveaway Iced Thai Tea
Get Free 1 Glass of Thai Iced Tea* (Size 12 Oz.) (Valued 85 Baht) (Limit 1,000 privileges) at Karun Thai Tea, G Floor, Siam Paragon
Simply present any receipt from any shops in Siam Paragon, Siam Center, and Siam Discovery or Bangkok Airways Boarding Pass which is issued during 10 April 2023 – 31 May 2023 at Tourist Counter, Siam Paragon, G Floor
Counter for Picking Up Free Thai Tea Coupon: Tourist Service Center, G floor, near Bangkok Bank and Gate 1, Siam Paragon
Apply Coupon At: Karun Thai Tea, G floor, Siam Paragon
Period : 10 April 2023 – 31 May 2023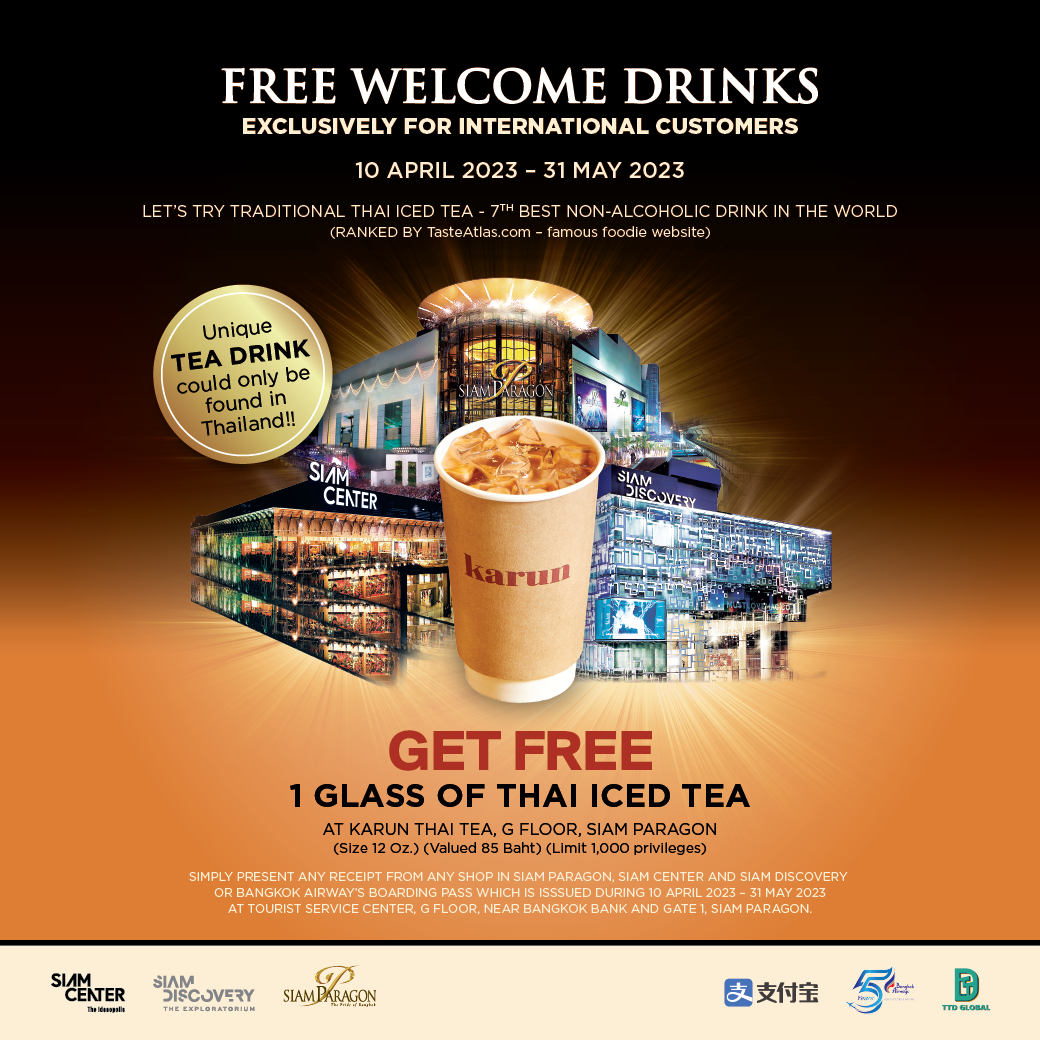 2. "Feel the waves and beats" at the very heart of Bangkok at Siam Paragon !
Siam Paragon Summer Ultrasonic "Feel the waves and beats" event, featuring SpongeBob and his pals to elevate summer enjoyment in Thailand. With the vibrant "Colorful DAY Playful NIGHT" concept of the event, from April 12-23, 2023, at Parc Paragon, guests will be captivated by impressive installation art featuring the lively world of SpongeBob and his friends, right in the heart of Siam. The amazing 7-meter-high giant slide is one of the must-see attractions.
3. Don't miss the exclusive promotion, special for you !
Get Free valued 800 thb Siam Gift Card** when spending 20,000 thb at Siam Paragon, Siam Center and Siam Discovery, plus many benefits from MasterCard, VISA and JCB!
Get the cash back immediately with Downtown VAT Refund! Now is available!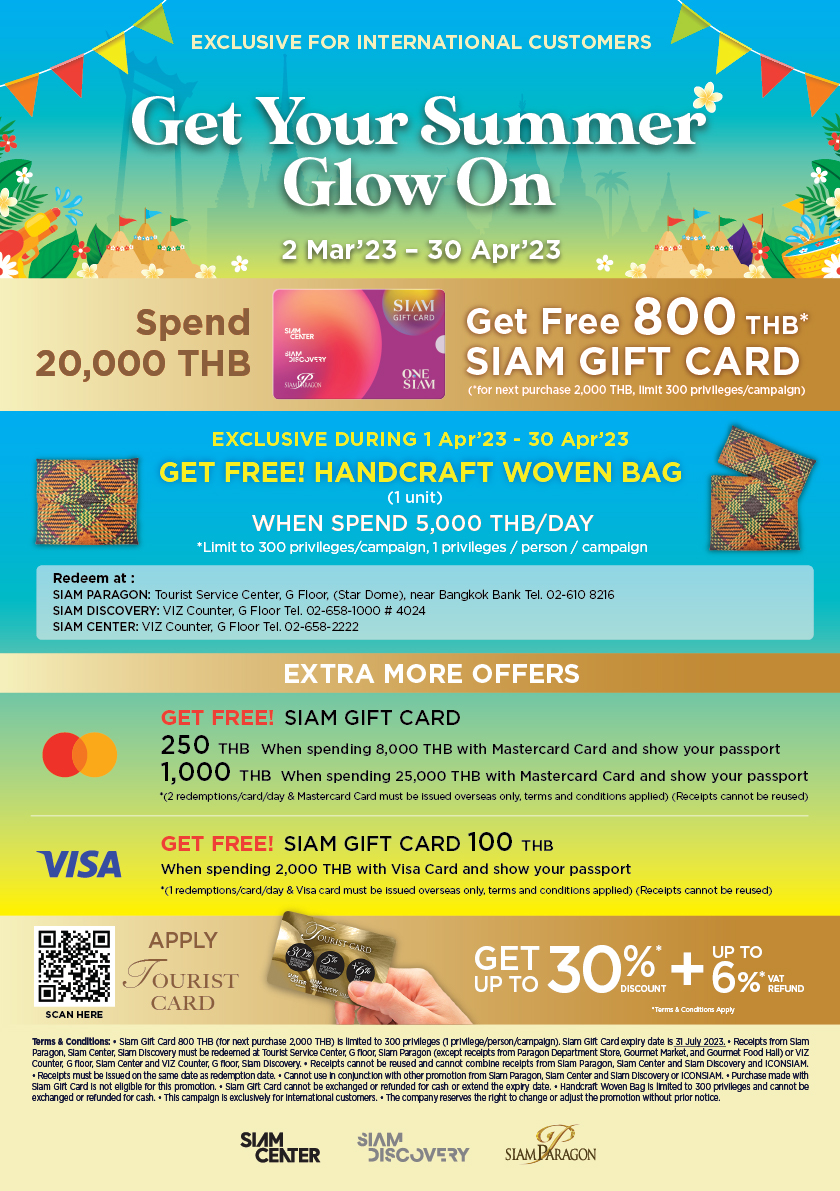 *Terms & condition please ask for at Tourist Counter
**Check terms and conditions at Tourist counter, G Floor
Only available for international customers