Siam Paragon and Hop-on Hop-off Sightseeing Bus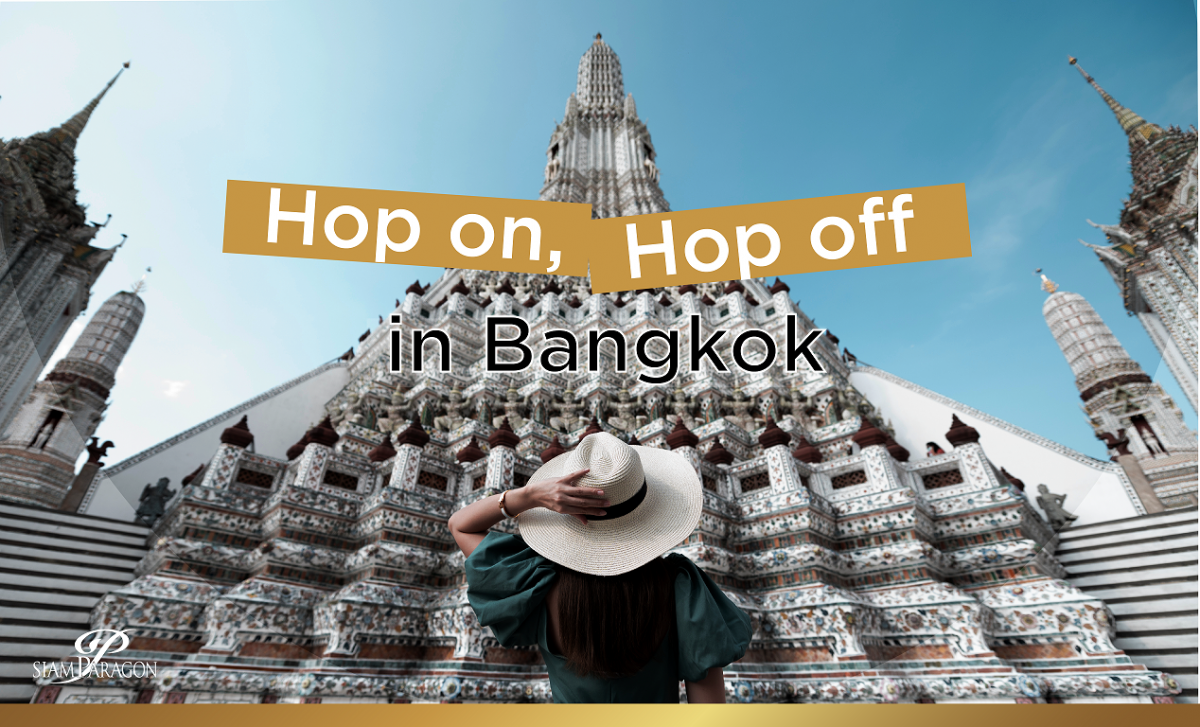 One Day and Night in Bangkok – The Perfect 'Eat and Explore' Plan, Plus Trendy Landmarks and Hidden Gems.
Day Start – Night Stop! Enjoy 'Day Time' non-stop city tour to delicious eateries hidden in various corners in Bangkok. Then for 'Night Time', let's chill out with Bangkok sunset and nightlife. Every location is easy to access by Elephant Go Go, Hop-On Hop-Off Bus.
Don't forget to apply ONESIAM Tourist Card to get more discounts and privileges!
Click here: https://bit.ly/3CL13fq
For more information: https://bit.ly/3OAdHSv
Day Start! Explore and enjoy local deliciousness.
Day Station 1
Start your new day at Siam Paragon, with various flavor choices of coffee. Highly recommended CDGRE, where you could grab premium coffee and light brunch before riding off with Elephant Go Go.
Pick-Up Point: Siam Paragon, Bangkok Bank Exit
Day Station 2
Visit Wat Traimit (Temple of Golden Buddha), an ancient temple that houses the world's largest solid-golden buddha, recorded by The Guinness Book of World.
Pick-Up Point: Golden Buddha Temple
Let's explore unmissable local culinary destinations in Soi Sukorn, near Wat Trimit. Enjoy house spicy tomyum delicacies of Trok Rong Mu Noodle. Get mouth watering tastes under the hot sun, then fulfill your tummy with Oyster Omlette at Daeng Racha Hoi Tod, the legendary eatery with over 100 years of experience.
Day Station 3
Another of Yaowarat Hidden Gems is 'Soi Nana'. Strolling down to a lively street, hopping in 'One Day Wall Flower', one of few flower cafes in Bangkok. The boutique café crafts and reimagines their food and beverages from real flowers. We bet, your photos and clips will be stunning with flower decoration.
Pick-Up Point: China Town
Day Station 4
Find your peace of mind at Dragon Temple (Wat Mangkon Kamalawat), another religious landmark that bond Thai, Chinese, and foreigners together. Don't miss the crispy, golden goodness at Patonggo Savoey.
Pick-Up Point: Dragon Temple Kammalawat (Wat Mangkon Kamalawat)
Night Stop! Chillax with Bangkok picturesque urban view and nightlife.
Night Station 1
Visit Wat Arun (Temple of Dawn), located along the Chao Phraya River. Pay respect to the buddha, appreciate Thai architecture and different postures of hermit statues. Never miss your sunset here.
Pick-Up Point: Wat Arun
Night Station 2
Enjoy your contemporary French Fine Dining at ICONSIAM Blue by Alain Ducasse, Michelin Star Restaurant with magnificent Chao Phraya River view. Fireworks to be featured for special occasions.
Don't forget to apply ONESIAM Tourist Card to get more discounts and privileges! 
Click here: https://bit.ly/3CL13fq
Pick-Up Point: ICONSIAM
Final Station
Closing your perfect night with the return to Siam Paragon, the heart of Bangkok that fulfill your memorable trip with fascinating highlights, including Dancing Fountain at Parc Paragon, Urban Lifestyle, Bangkok Nightlife. On the opposite site, visit Sra Bua by Kiin Kiin at Siam Kempinski – Modern Thai Fine Dining Restaurant with Michelin Star. Or you may explore nightlife of Ploenchit, Chidlom, or other corners starting from here. Paragon is very convenient landmark, located right at Siam BTS Station.
Pick-Up Point: Siam Paragon, Bangkok Bank Exit
Why wait? Let's pack your stuffs, get recharged, then join us for fun together!