Check out popular restaurants among Thais.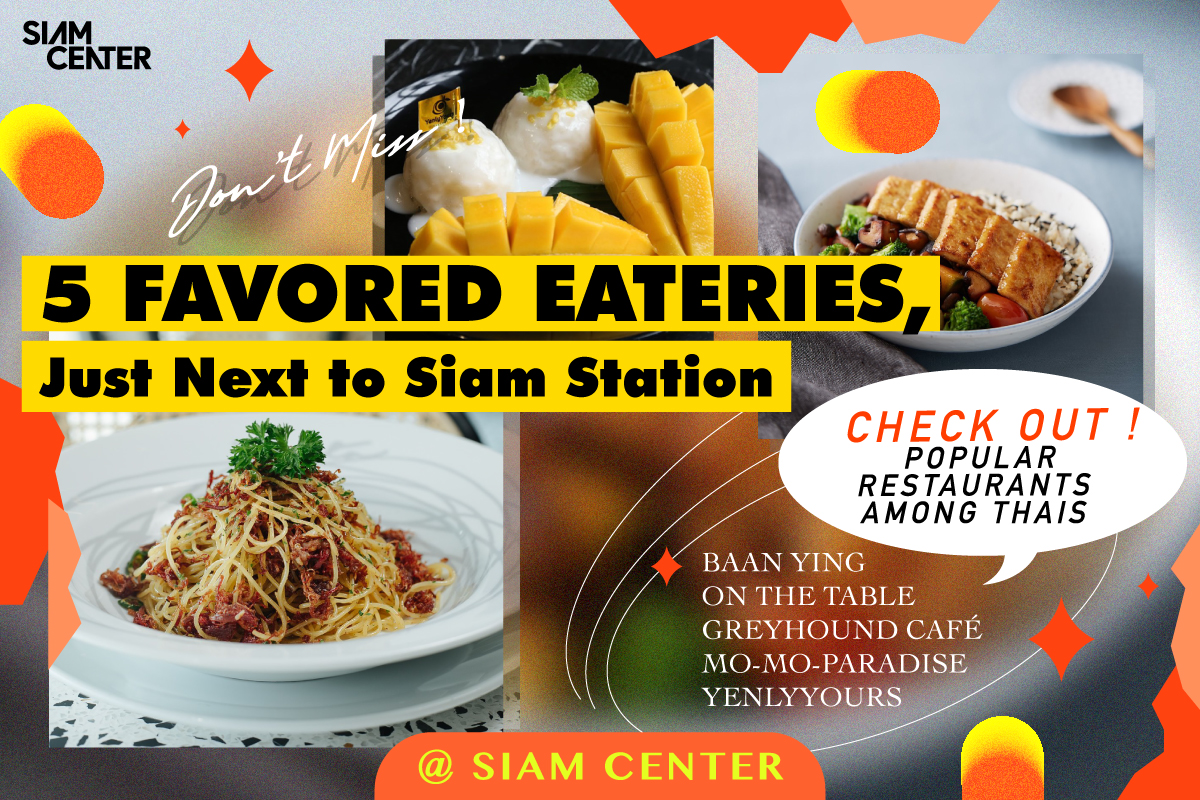 Get off the BTS Siam station at noon and don't know where to have a meal? Just come to Siam Center. It's where avant-garde ideas and diverse trendy restaurants are all together. There're 5 top restaurants here that queuing up is bearable. Let's check it out!
Enjoy up to 5-30% off just by applying for a tourist card, at participating stores and restaurants. Click https://bit.ly/3CL13fq
Baan Ying, 2nd Floor, Siam Center
The legend of homemade meals by mom that Siam teens recognize. The signature dish that food lovers can't miss is "Omelette Rice" with its softness and mellow flavor as well as toppings at your own selection. Or you can try "Shrimp with Garlic and Chili". The sweet and bouncy shrimp is spiced up with garlic and chili. It's superb when served with rice. Also, you can find some other Thai food that you will be truly satisfied here.
On The Table, 2nd Floor, Siam Center
This chic café is cutely decorated to give cozy and comfortable vibes, full of homemade healthy fusion menu that harmonizes eastern and western styles. The recommended signature dish for you to try is "Crispy Quinoa Maki" in which salmon, tuna, avocado and fresh vegetables come in big maki rolls.
Its distinction is crunchy crispy quinoa around the maki which is topped with spicy miso sauce. For those who love tofu, you can try "Balanced Tofu Bowl". The tofu is grilled and seasoned with teriyaki sauce. Nutrition is added as it's served with vegetables, aromatic and soft Japanese rice, and mixed with salty hijiki seaweed. The dish is both yummy and rich in nutrients, a perfect choice for healthy and fusion food lovers.
Mo-Mo-Paradise, 2nd Floor, Siam Center
The forever invincible shabu! The restaurant offers the legendary tasteful black soup from Shinjuku. Whether you love pork or beef, they are all here for your selection. There's an array of premium Australian and Japanese beef such as USDA Angus beef, Kurobuta shoulder, and pork belly for you to order to your heart's content. Also, you can end your yummy meal with desserts like an authentic Japanese daifuku. With its soft and sticky texture, as well as its perfect sweetness, shabu lovers will never get disappointed.
Greyhound Café, 1st Floor, Siam Center
The café will give you feelings of classic and chic every time you're here. Every dish is twisted with design and fashion making it even more fun. The must-try dish is "Spaghetti with Corned Beef and Fresh Chili" with its just-right spiciness for Thais and al dente spaghetti. You will have both the western taste and the Thai hot flavor. Also, "Fried Rice with Shrimp Paste" here is made uniquely from its secret recipe. The sweet pork is different, and served with fragrant dried shrimp, sliced unripe mango, shallot, and chili. You can just squeeze a lime over everything and mix them all with rice. Plus, the soup that comes with the dish will ease the meal for you. Whoever loves fashion cafés, this place is a must.
YenlyYours, 2nd Floor, Siam Center
The hottest mango café at the moment! The one and only café that gathers all the desserts from premium mangoes for you to try to the full extent under the concept "No. 1 Thai Mango Café". The first in the front row is the currently most popular dish "Mango Sticky Rice". The rice is soft and perfectly salty and creamy. The fresh coconut milk together with the golden mango are yummy, sweet, and soft. Anyone who would like to enjoy cold drinks can try "Mango Smoothie with Mango Jelly". It's always the best seller and packed with freshly blended mango for every order. Also, it's served with mango jelly that is bouncy and sweet from their secret recipe. It's so yummy that you can't stop eating.
Fulfill your happiness with deliciousness from various leading restaurants amid comfortable and simple vibes, just pin up Siam and turn to Siam Center.