1 March 2023 – 31 December 2023
Exclusive Privileges for AliPay users when shopping at ONESIAM
Red Packet Promotion
Shopping and pay with AliPay at Siam Paragon, Siam Center, and Siam Discovery
Get Free! Discount up to 888 RMB (no minimum spending), when collecting 5 Red Packets
Diamond FX Promotion
Special from 1 March 2023 – 31 March 2023
Upgrade exchange rate (2% better than normal rate)
AliPay Platinum Members, get 3 privileges (collect 3 coupons)
AliPay Gold Members, get 2 privileges (collect 2 coupons)
AliPay Blue Members, get 2 privileges (collect 1 coupons)
Redeem in AliPay application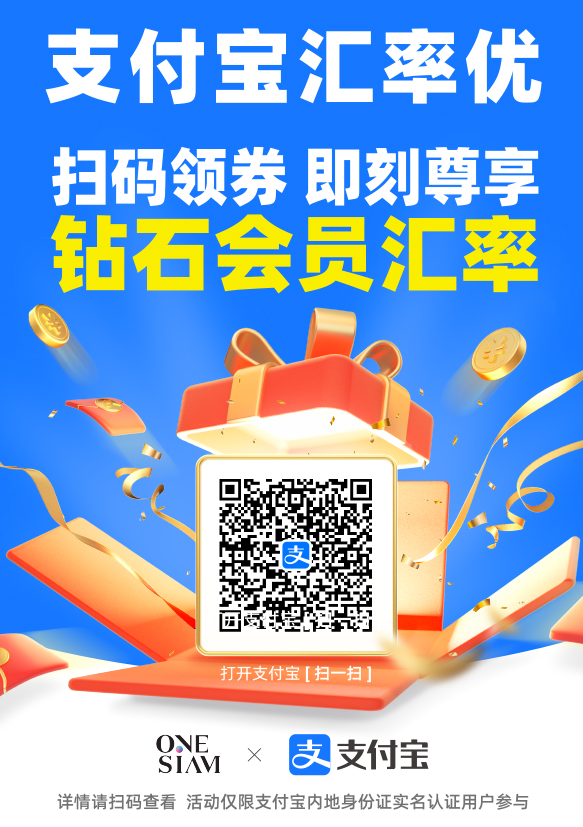 Terms & Conditions
1. Valid for AliPay Chinese mainland members only
2. Customers scan QR Code to collect coupons and privileges
3. For Red Packet promotion, customers collect red packets from AliPay application and collect 5 packets to get up to 888 RMB (no minimum spending) from AliPay. Customers will get a discount automatically in the application after finishing each payment.
4. Red packet promotion redeem period from 1 March 2023 – 31 December 2023
5. For Diamond FX promotion, customers collect free coupons from AliPay application according to membership tier as following:
AliPay Platinum Members, get 3 privileges (collect 3 coupons)
AliPay Gold Members, get 2 privileges (collect 2 coupons)
AliPay Blue Members, get 2 privileges (collect 1 coupons)
6. Once customers collect Diamond Exchange Rate coupons, each coupon will be valid for 7 days. Customers must use the coupon within the valid period.
7. Limit 1,000,000 coupons for each membership tier throughout the campaign 1 March 2023 – 31 March 2023
8. Diamond FX promotion redeem period from 1 March 2023 – 31 March 2023
9. Cannot use in conjunction with other promotion from Siam Paragon, Siam Center, and Siam Discovery
10. The company reserves the right to change or adjust the promotion with prior notice